TICC 2019
Fri 5th & Sat 6th July

Venues:
5th July
The Lightship Café | Grays Riverside Beach Park RM17 6HQ
6th July
South Essex College, Grays RM17 6TF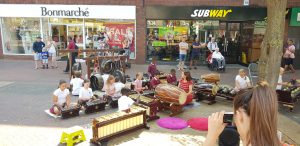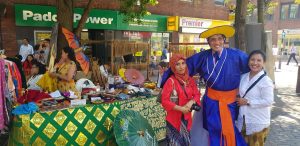 This year TICC festival will make the bold move from High Street to the more expansive, chill out areas around South Essex College and St Peter and St Paul's Church south of Grays railway. Check here for updates as we approach the festival.
On 5th July, Kinetika will launch T100 with a world feast at The Lightship Café in Grays Riverside Beach Park. Come along to enjoy it! It will be very friendly and full of tasty dishes!
On 6th July, in the forecourt of South Essex College, visitors will encounter cultural villages of food stalls run by locals happy to share their traditions and memories of the cuisine on offer. From here, Kinetika will begin its food trail along the Thames to Southend.
You will also experience the delightful work created by Thurrock Young Creatives for your entertainment.
The skies will be filled with hand held birds and clouds. Saunter along with wheelchair boats. Here and there you may find living statues poised on some parapet alarming one when, on occasion, they capriciously leap into life. Or perhaps a couple having some whimsy altercation. Around a corner, a group are gossiping about some furtive intrigue. Then someone bursts into entrancing song immediately distracted by a bewitching clown followed by a flurry of ferocious martial arts. Then a ravishing dancer segues appealingly through the crowd. And milling around will be strikingly attractive cosplayers.
In the midst is this is a long communal table with a ship's front festooned with the colourful Kinetika T100 flags designed by locals. Here you can feast and decorate your own flags to hang as bunting.
As it is Gandhi's 150th birthday and he arrived in Britain via Tilbury, we are marking his philosophy of Ahimsa, the Sanskrit word meaning non-violence and respect for others through these flags.
And at the College Amphitheatre, there will be choral and devotional music to lift one's spirits in a very special interfaith atmosphere.
Kinetika's T100 food trail will also need a warm send off around midday and we expect a lovely crowd to join us to do just that!
TICC 2019 has received funding from Thameside Theatre, Thurrock CVS, Riverside Community and support from Kinetika, Thurrock Lifestyle Solutions, and South Essex College.
TICC is produced in partnership with AAAHA.