TICC 2019
Thurrock International Celebration of Culture
Fri 5th & Sat 6th July

Venues:
5th July 5-7pm
The Lightship Café | Grays Riverside Beach Park RM17 6HQ
6th July 10am-6pm
VIP Opening Ceremony 11.30am
South Essex College, Grays RM17 6TF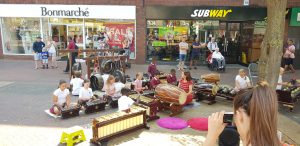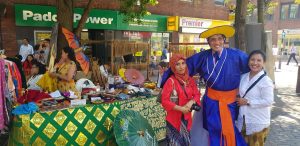 This year TICC festival will make the bold move from High Street to the more expansive areas around South Essex College south of Grays railway reflecting Thurrock's motto of "By Thames to all people of the World".
Come and experience the chill out atmosphere of world cultural villages, international music, Thurrock heritage and delicious food – all spiced up with unexpected interventions, riveting performances and community participatory activities that transform the space into a delightful, magical world where tradition and present-day mingle.
On Fri 5th July | 5-7pm Kinetika will launch T100 with a world feast at The Lightship Café in Grays Riverside Beach Park. Come along to enjoy it! It will be very friendly and full of tasty dishes!
On Sat 6th July | 10am-6pm, in the forecourt of South Essex College, TICC skies will be filled with hand held birds and clouds. Saunter along with fantasy wheelchair boats. You will find compelling characters capriciously leaping into life. Perhaps a couple having some whimsy altercation? Or a group of pirate smugglers bursting into song? But beware, they are pirates after all!
Explore the music the pirates found on their travels round the world. The soothing gamelan and songs of Indonesia; vibrant drums and dance of West Africa; dynamic Japanese Okinawan music and performers; zesty Nepalese dances.
Encounter cultural villages of food stalls run by locals sharing traditions and memories of the cuisine on offer. In the midst of this will be a long communal table with a ship's front festooned with colourful Kinetika T100 flags designed by locals.  After a world feast, Kinetika will set off on its food trail along the Thames to Southend led by an unstoppable Samuel Pepy's. They will  need a warm send off and we expect a lovely crowd to join us to do just that!
This year celebrates the 150th anniversary of The Malay Archipelago penned by Albert Russel Wallace – naturalist, explorer, geographer, anthropologist, and biologist. To mark the occasion, an Indonesian world village of gamelans, cuisine, arts & crafts and community dancing will provide visitors with a unique cultural experience.
Revel in other community dancing as well, to the music of Africa and India. Or enjoy singing a sea shanty or two, led by a group of lusty pirates!
At TICC, you can decorate your own peace flags and the Arms of Grey to hang up as bunting. It mark's Gandhi's 150th birthday and his philosophy of Ahimsa, the Sanskrit word meaning non-violence. He was one of the many famous people who came through Tilbury. And the Arms are those of Henry de Grey after which Grays is named. Artist Steve Lawes will be on hand to help this along.
Bring Henry de Grey to life by painting the dynamic sculptures of this knight of yore made by Als Peculiart specially for TICC. He died 800 years ago!
The Royal Opera House will host a couple of delightful arts workshops.
Butterflies of Hope is for anyone who wishes to make an origami butterfly facilitated by Amanda Mascarenhas for ROH Thurrock Community Chorus performance and reflecting the beautiful tropical butterfly illustrations from The Malay Archipelago.
Contribute towards making the community textile piece, 'Welcome', created by textile group, Kite Spirit. On strips of upcycled fabric, share your words of welcome, nurture, sharing, hope and kindness, which can then be hand-sewn and knotted together to create a sanctuary of shelter.
Thurrock Museum and local history organisations will be on hand to help you peek into the fascinating history of Thurrock. They will be entertainingly supported by activities displayed of local voluntary groups.
A standout feature will be the Museum Collection on Tour. On display will be the three items that received the highest number of votes by locals – Iron Age minted coins, a clock and medal, and WWII women's war uniform.
Amidst all this activity, perhaps you might like to rest at the Library station to listen to a story or browse through some books. Or try some health snacks and cakes at the Grays Pathfinders 'A Place To Rest' where people can sit, chat and have a cup of tea.
Check here for regular updates as we approach the festival.
TICC 2019 kindly thanks our supporters
Sponsorship  The Indonesian Embassy
Funding  Thameside Theatre | Thurrock CVS | Riverside Community
Support  Kinetika | Thurrock Lifestyle Solutions | Thurrock Music Services | Thurrock Museum | South Essex College
TICC is produced in partnership with AAAHA